Strengthening regional resilience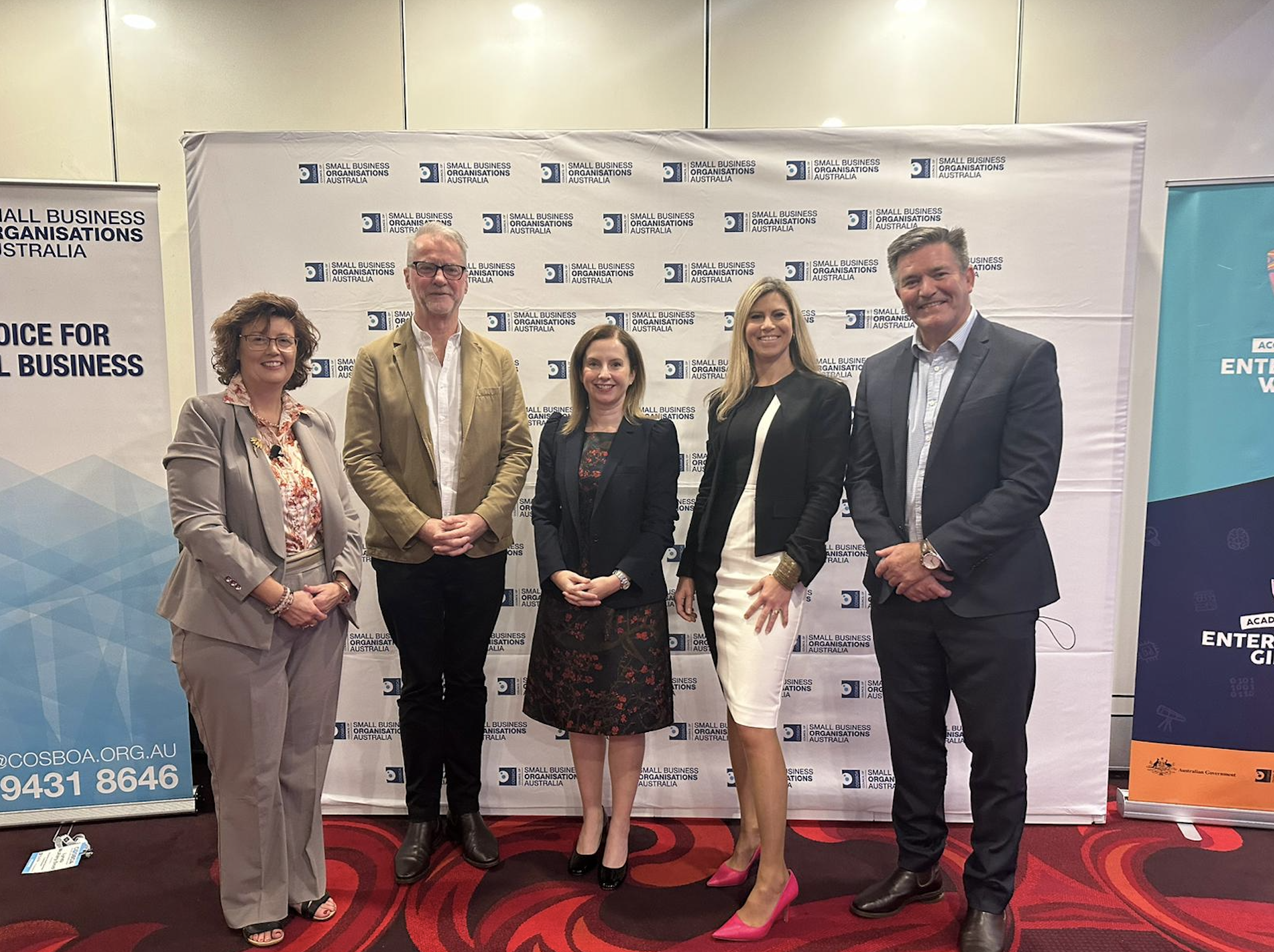 Pictured above L–R: Elizabeth Skirving CAANZ, GAICD, CEO Rural Business Tasmania & COSBOA Deputy Chair, Senator Tony Sheldon, Labor Senator for NSW, Special Envoy for Disaster Recovery, myself, Anna Longley, Assistant Commissioner, General Counsel, Australian Charities and Not-for-profits Commission, Brett Smith, CEO Rural Business Support – RFCS SA/NT
COSBOA National Small Business Summit
Small businesses – especially in regional communities – have been hit hard with natural disasters, the pandemic, labour and affordable housing shortages, and inflationary and supply chain issues.
This is why regional resilience was a key focus at the COSBOA National Small Business Summit. I took part in the panel session on this topic, where I discussed the pressures impacting our regional small businesses and how this is compounding the disputes we help to resolve. The session was a chance to explore the emergency management response from government, tools for planning and recovery, and ways that we can strengthen regional resilience.
How can you go about achieving resilience?
A resilient small business is one where the business owners and managers have gained the skills and knowledge needed to effectively respond to disasters and disruptions, adapt, and keep operating while looking after their staff, assets and brand equity.
It might seem overwhelming, but in actual fact, most disaster preparation shares common steps and the Business Victoria website offers a hub of guidance and resources that simplifies the process.
If you haven't already, I encourage you to consider joining your local business network or industry association. They can offer advice, connectedness and support, a united voice for communicating with government, and an effective channel of communication that you can rely on in a crisis.
Tools you can call on for planning and recovery
The Business Victoria website offers guidance and resources for helping you to:
I cannot stress enough the importance of including the Victorian Small Business Commission's dispute resolution services in disaster preparedness. If you are recovering from a disaster and find yourself in a dispute, it's vital that you know where to turn for a prompt resolution.
The Partners in Wellbeing helpline (1300 375 330) is also a valuable resource tailored for small business. It offers free access to expert business advisors, financial counsellors and wellbeing coaches who have the skills and experience to assist.
Strengthening regional resilience
The Australian Small Business and Family Enterprise Ombudsman's 2022 Small Business Natural Disaster Preparedness and Resilience Inquiry provided recommendations for strengthening resilience, including:
establishing a business hub after a disaster as a single point for small businesses to seek help from all levels of government and non-government agencies
enabling small business owners to create an opt-in 'my business record' for digitally storing all vital information that they might need after a disaster
addressing the difficulty in accessing affordable insurance, helping to reduce the number of small businesses that are operating uninsured, underinsured or with excesses that prohibit them from making a claim.
Other measures for enhancing regional resilience include:
on-the-ground workshops on disaster preparedness that are tailored to address local challenges and risks
the establishment of small business networks in regions where they're lacking.
More information
Learn more about our dispute resolution process and how to apply for our help to resolve a commercial dispute.
– Commissioner Lynda McAlary-Smith