Commissioner talks small business in Victoria's Central Highlands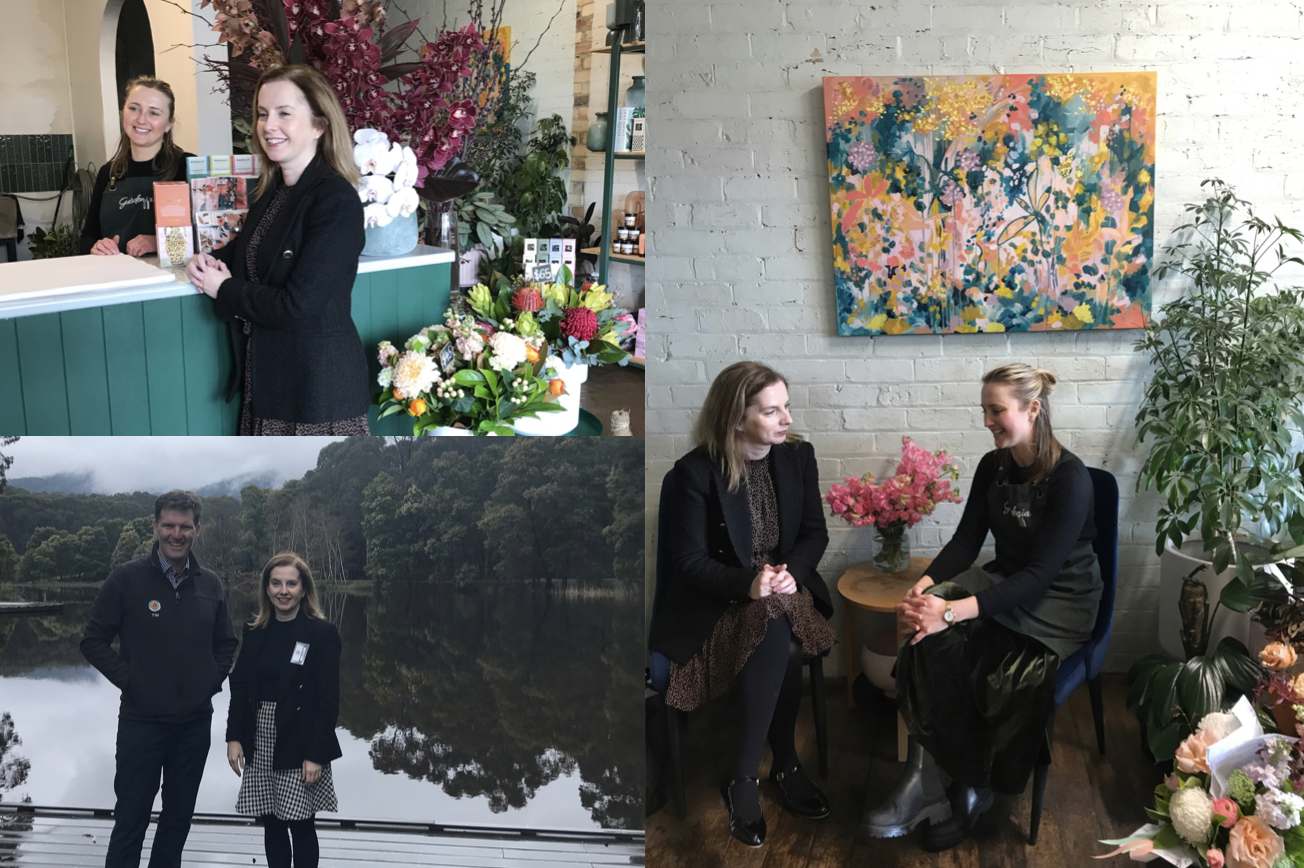 Ellie Feery (top left, right) and Tim Chandler (bottom left) meeting with Commissioner Lynda McAlary-Smith
Victorian Small Business Commissioner Lynda McAlary-Smith recently visited the Pyrenees and Ballarat region to hear more about the real issues confronting local businesses and raise awareness of supports.
Commissioner McAlary-Smith took part in the Central Highlands Local Jobs Forum, which focused on responses to the local skills and labour shortages and support for people looking for staff.
Forum discussions highlighted the value of employers working with community champions to recruit staff locally, and the importance of creating a sense of community for staff who are new to the area.
"Local business owners spoke about recruiting and training people who may have otherwise faced challenges in finding work, and how this investment has enabled them to build a skilled and loyal team of staff," Commissioner McAlary-Smith said.
During her two-day visit, Commissioner McAlary-Smith also met with small businesses, City of Ballarat and Pyrenees Shire Council.
"I heard about the challenges business owners in Beaufort and Ballarat are experiencing, such as hospitality worker shortages and a lack of housing and transport for their staff.
"I also gained insights into council-led solutions, such as the development of properties on council-owned land.
"Small business owners shared with me incredible stories of success and strategies that have helped them get through the pandemic, including Cave Hill Creek owner Tim Chandler. Tim spoke about the value of putting the visitor experience at the centre of everything you do, building trust in difficult times and evolving your business model.
"Gardenia Magnifica owner Ellie Feery spoke with me about how flowers are part of many life milestones and that her staff are sensitive to the emotional needs of customers that walk through the door on any given day. Ellie also spoke about how a positive attitude and the support of the Ballarat community saw her business thrive during the pandemic.
Commissioner McAlary-Smith raised awareness of how the Victorian Small Business Commission (VSBC) can help resolve disputes that regional small businesses are finding themselves in at this time – be it over unpaid invoices or poor quality services.
"We offer help early on, and if the matter can't be sorted this way, we can arrange a session online with an impartial mediator who can help the people in the dispute to reach a fair outcome," Lynda McAlary-Smith said.
For more information, visit the VSBC and Jobs Victoria websites. For media enquiries, contact Chris Harris on 0436 698 132 or at christine.harris@vsbc.vic.gov.au.