Our new tool for managing disruption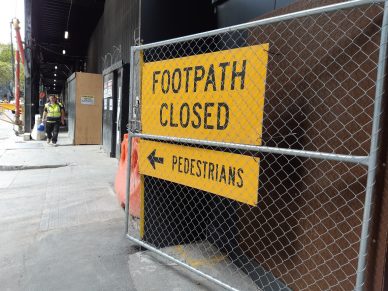 We're in the thick of Victoria's big build, with major infrastructure works underway to support our growing population. These improvements have to happen. However, the disruption these projects cause can also put a massive strain on small businesses.
We've created a practical tool to help small business owners and operators plan for and manage disruption. No one knows your business and your customers better than you, so you are best placed to develop strategies to manage the impacts in ways that will be of most benefit to your business.
Our new Guide to managing disruption includes tips to help you:
understand the scale of the project and the likely impacts on you and your customers
plan communication with the project manager, your customers and other local businesses
manage the impacts and develop a disruption mitigation plan that works.
In the guide, we've also profiled a café that has been a leader in generating creative responses to disruption. The inner west Melbourne café Dumbo had been negatively affected by road works. Parking spaces couldn't be used by their customers and parts of the footpath were blocked off, affecting access to their café. You couldn't clearly see the café from the street and the works caused a fair amount of noise pollution.
So what did they do? They were flexible and adaptable in their approach to mitigating the impacts. Their campaigns included adding an online delivery option for their customers, piloting a 'kids eat free' campaign and setting up a popup when it became increasingly difficult to access their café. For more insights into Dumbo's approach and further guidance in mitigating impacts, download your copy of our Guide to managing disruption.
This guide complements our Victorian small business engagement guidelines for project managers to help make sure they engage with small businesses during construction works and, wherever possible, consider their needs. Download your copy of the Victorian small business engagement guidelines.