City of Maroondah set for more small business support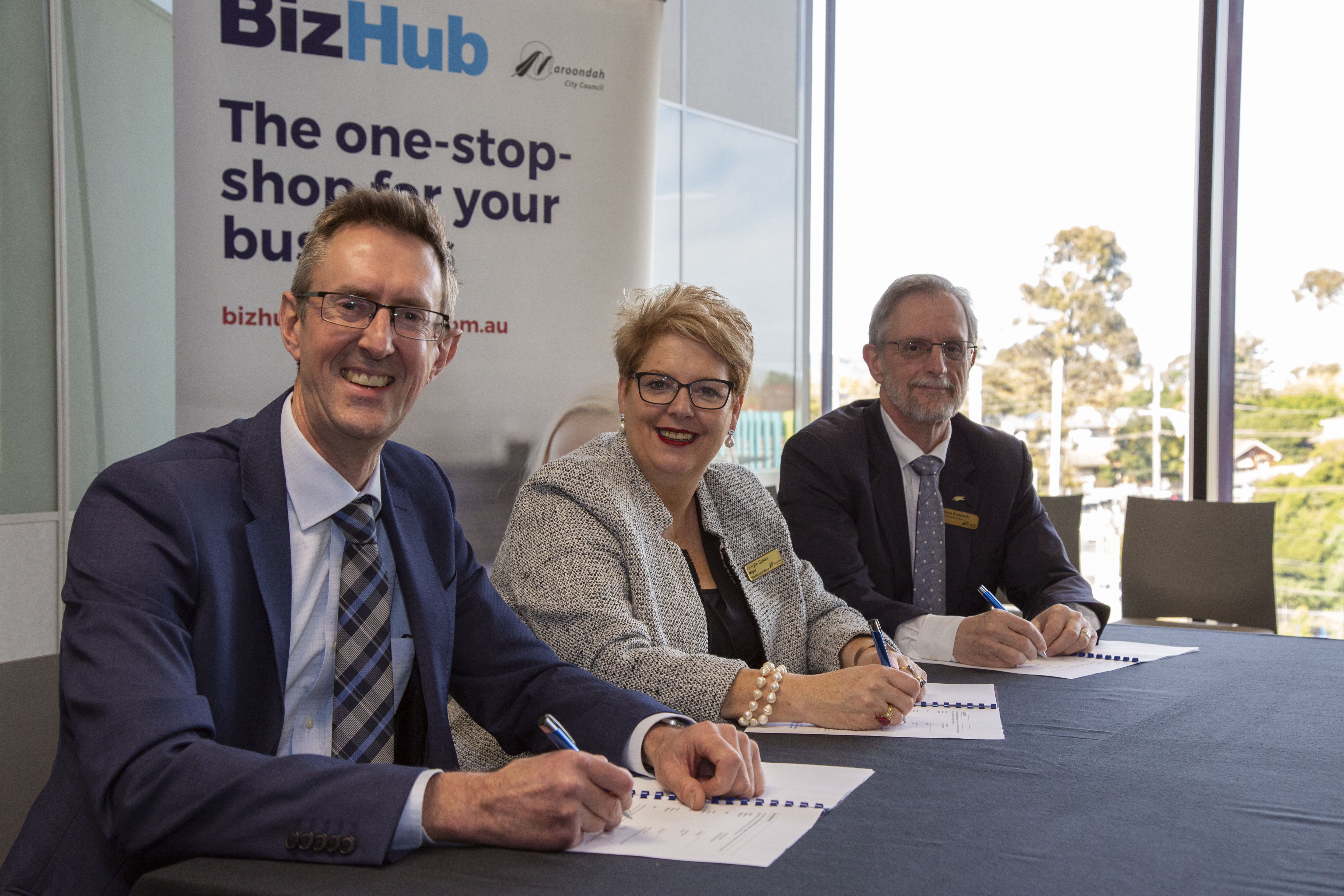 City of Maroondah's small business owners will have more support to do business, with the local council having signed up to Victoria's Small Business Friendly Council initiative.
The initiative is about making it easier to start, run and grow a business locally, and it's being driven by the Victorian Small Business Commission (VSBC) with the 54 local councils that are now on board.
Today, Acting Commissioner Mark Schramm joined Maroondah City Council Mayor Cr Kylie Spears (who is also Chair of the Maroondah Business Advisory Committee) and Maroondah CEO Steve Kozlowski in signing the initiative's Charter (pictured above).
By putting pen to paper at their Ringwood offices, the council is committing to:
support new local business networks to start and existing ones to thrive
pay small business supplier invoices promptly
support small business owners to continue trading during council works on or near their properties
continue to streamline approval processes for people looking to start a business locally – and more.
City of Maroondah is home to over 44,000 jobs across a range of industries, from health care and social assistance, retail trade and construction to manufacturing, which provides the greatest contribution to economic output in the region.
The pledge builds on current council supports such as their:
free one-on-one expert sessions with small business mentors
Be Kind to Business Maroondah campaign to encourage support for local traders
Footpath Dining Extension Permit initiative to help hospitality businesses expand
Maroondah BizWeek 2021 (starting today), which offers sessions on ramping up your digital presence, health, wellbeing and productivity and other topics.
For media enquiries, contact Chris Harris on 0436 698 132 or at christine.harris@vsbc.vic.gov.au.
Quote attributable to City of Maroondah Mayor Cr Kylie Spears
"We couldn't be happier to partner with the Victorian Small Business Commission to deliver even more supports to our local small businesses. They are key drivers of the City of Maroondah's local economy and we're fully committed to helping them succeed."
Quote attributable to Acting Victorian Small Business Commissioner Mark Schramm
"Congratulations Maroondah City Council for pledging to go that extra step in supporting your local small business community. We look forward to working together on ways to respond to local needs with solutions that work, ensuring local businesses have a fair and inclusive operating environment."