Is your local council small business friendly?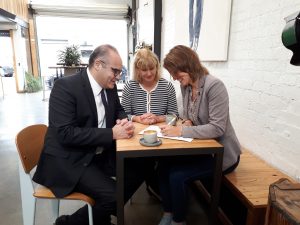 I'm excited to share with you the launch of our new initiative that will make it a lot easier for you to do business with local council.
Minister for Small Business Adem Somyurek has launched our Small Business Friendly Council (SBFC) initiative. I'm now calling on local councils to sign up to become small business friendly.
We've partnered with local councils to create this initiative, which is a commitment to creating a trading environment for small business that's fair and competitive.
When signing the SBFC Charter, the Victorian Small Business Commission and local councils are pledging to:
pay small businesses within 30 days
support local businesses in managing the impacts of infrastructure projects
streamline the approval process when starting a business
help set up and support local business networks.
We're carrying out this work with local councils for good reason – because they play such an important role in supporting small businesses in their local community.
This isn't an initiative that will be demanding of your time or resources. Instead, what we've created offers real benefits and positive impacts for the 600,000+ small businesses in Victoria – businesses that create jobs, deliver essential goods and services and help to grow our community.
The Charter provides a road map for the coming twelve months. Our aim is to expand the initiative to include a range of projects and resources that will support you and help in addressing issues you have come up against when doing business.
I'm pleased to say that the City of Yarra, Northern Grampians and the City of Glen Eira are the first councils to sign up. We will continue to engage with other Victorian councils and encourage them to follow their lead.
Visit Small Business Friendly Councils to learn more about the SBFC initiative and find updates on which councils have signed up. You will also be able to download a range of helpful resources, including our new guides on managing disruptions caused by infrastructure projects and on building stronger networks.