A new three year business strategy for the Victorian Small Business Commission, which commences on 1 July, was launched at a breakfast to celebrate the Inaugural World Micro, Small and Medium Enterprises Day.
The creation of the Commission will provide the Victorian Small Business Commissioner with broader and stronger functions, and the strategy outlines its goals and proposed actions, focusing on  advocacy, providing dispute resolution, monitoring the small business environment and small business community engagement.
The Commission aims to create a fair and competitive environment for Victorian small business to operate, grow and prosper.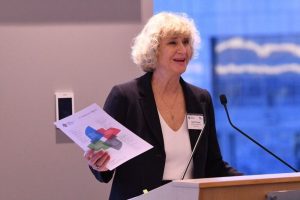 Victorian Small Business Commissioner Judy O'Connell launches the three year strategy for the Victorian Small Business Commission, which commences on 1 July