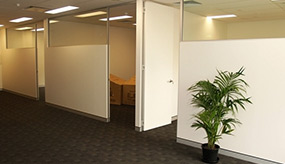 The situation: Two adjoining premises (Suite A and Suite B) are owned by the same landlord. The tenants were on a month-to-month tenancy for many years but have vacated both premises some months earlier. The parties are in dispute over the 'make-good' of the premises.
The landlord had required that partitions installed in each of the premises be removed, while the tenants maintained that the agent, who inspected the premises prior to them being vacated, had indicated that the partitions could remain as they might assist in re-letting the premises. The agent denies this. The amount in dispute is around $4000.
The process: The landlord refers the matter to the VSBC and the parties agree to mediate. At mediation, it emerges that the tenants had occupied the premises for more than 30 years.
They had initially entered into fixed-term leases, but these had expired many years ago after which the tenant continued in the premises on a month-to-month basis. Both tenant companies had been delisted some years ago and were no longer in existence.
Furthermore, the sole director and guarantor of one of the companies had died more than 10 years ago.
The person attending the mediation on behalf of the tenant had been a director and guarantor of one of the now delisted tenant companies and states that he is representing the tenants of both premises. In his view, the tenants have no obligation to remove the partitions and there is no certainty regarding when they were erected. He maintains that the agent had agreed that the partitions could remain.
The agent is adamant that the partitions were only allowed to remain as long as they assisted in re-letting the two suites but, since the suites have not been re-let since the tenants vacated 12 months before, the partitions now needed to be removed at the tenants' expense.
The resolution: The likelihood of the Victorian Civil Administrative Tribunal determining against the tenants, given the circumstances and the amount of uncertainty, is raised during mediation.
The expense and difficulty of such litigation is discussed by the parties and they reach agreement to share the cost of removing the partitions equally as full and final resolution of the matter.