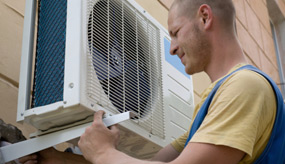 The situation: The tenants run a business involving the operation of expensive equipment that they said was being affected by the lack of fully functioning air conditioning.
They had sourced their own portable air conditioning units as a temporary solution because the landlord refused to fix the problem.
With summer approaching, the tenants are concerned about the pressing need for an operating air conditioning unit. The existing air conditioning unit then fails completely.
The VSBC: The tenants make an application for dispute resolution with the VSBC. The dispute resolution officer handling the matter discusses the issues with both parties over a series of phone calls, with the landlord agreeing to install a new air conditioner in the premises.
Although pleased the landlord is going to address the air conditioning issue, the tenants still want to mediate the matter to claim compensation under the Retail Leases Act 2003 for the losses they had suffered, including the cost of the temporary units, temporary relocation of their activities and lost wages.
The resolution: At mediation, the parties reach a compromise on these issues and this includes the payment of a fixed sum by the landlord to the tenants as full settlement of the issues.