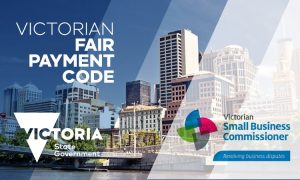 The Victorian Fair Payment Code provides a framework for businesses to pay their small and medium suppliers on time.  The Code recognises the importance of small and medium businesses to the Victorian economy and its aim is to promote good payment practices.
The Code will be administered by the Victorian Small Business Commissioner (VSBC) and will come into effect on 1 July 2017. We encourage businesses of all sizes to become signatories to show their leadership on this important issue.
Victorian Fair Payment Code of Practice
Code signatories undertake to:
Pay on time
Pay small and medium suppliers within 30 days from the date of the receipt of a tax invoice
Not change the length of payment on unreasonable grounds
Communicate clearly with suppliers
Prepare contracts in clear and simple language
Give suppliers clear guidance on payment terms and procedures
Promptly advise suppliers if there is any reason why an invoice will not be paid within the agreed terms
Undertake to resolve disputes quickly
Inform suppliers of the internal process for handling a payment dispute
Participate in alternative dispute resolution including mediation through the VSBC for disputes that cannot be resolved internally
Encourage fair payment practice
Encourage suppliers to adopt the Fair Payment Code within their own supply chains
Identify your business as a leader in fair payment by using the Fair Payment Code branding
If your business is interested in being a signatory to the Code, or you'd like to provide us with feedback, please contact us.